NEW!
I Am Not A Baseball Bozo by Chris Williams
★★★★☆ / BY STEVE QUADE / OCTOBER 22, 2021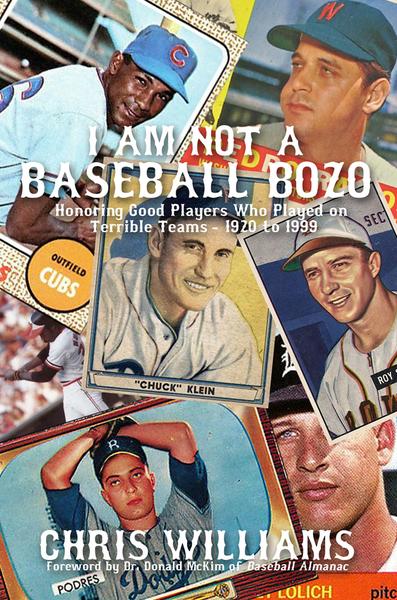 When asked who the greatest baseball player of all time is, many would answer Babe Ruth, and understandably so. With 714 home runs to his name and seven world series championships under his belt, Ruth certainly made a grand name for himself. However, had he not had a manager that let him switch positions and had he not played with teams featuring other outstanding athletes to support him, would we even know his name today? Much like Ruth, many baseball players of great fame have left their mark only with the help of a successful team. Author Chris Williams, however, points out that there are hundreds of great players that you may have never heard of simply due to the fact that they played on a team of… well, for lack of a better term, bozos.
While the qualifications for an INBB award, a new recognition for players that fit the I am Not a Baseball Bozo title, are substantiated by plenty of statistical evidence, this book is not solely a tedious index of data. Williams's lighthearted writing style and snippets of humor bring the book to life, appealing to even casual baseball fans. Each chapter covers a decade of baseball from the years 1920 to 1999, and begins with a number of interesting facts both about baseball and the world in general during those years. Winners of the INBB are then listed with sufficient details of their accomplishments to substantiate their eligibility, along with regular comments and quips by the author. Also, interspersed throughout the book are a handful of fascinating trivia questions and noteworthy photographs.
Replete with outstanding players from decades past, this book shines a light on an often overlooked segment of professional baseball's history. Chris Williams's INBB awards may not be listed in the Hall of Fame or shared on ESPN, but they certainly provide an amusing opportunity to look back at some of the forgotten players of a game that is filled with a few highs and plenty of lows. Funny and informative, I Am Not A Baseball Bozo: Honoring Good Players Who Played on Terrible Teams is a great read for any fan of the sport.
Don't stop now-there's more!
What some knowledgeable baseball people thought about Chris's previous book Stealing First and Other Old-Time Baseball Stories…
During these difficult times, when baseball is on indefinite hiatus, we need every distraction we can get. Williams' book just may provide a few desperately-needed hours of diversion for baseball-starved fans in York County, and beyond.

Steve Heiser, sports editor, The York Dispatch (entire article linked here)
Williams goes "back to basics" in using traditional baseball statistical categories. He brings to life engaging reflections on baseball players and personalities, teams, and seasons as a way of stoking our imaginations and giving us some new perspectives. Throughout, "nostalgia reigns" as we remember—or are introduced—to forgotten or "unknown" players who had a significance we didn't realize. A series of great photos conclude each chapter and add an additional, personal dimension to each of Williams' presentations.

Donald K. McKim, writing on BaseballAlmanac.com (click here for the entire review)
Quotes from baseball classic writings and interviews, recreations of personalities and events, and summaries that offer bigger-picture thinking about the sport and its players craft essays that often will prove inviting even to those with minimal interest in baseball statistics or history—although it's the avid fan who will best appreciate these numerical surveys of baseball history.

D. Donovan, Senior Reviewer, Midwest Book Review